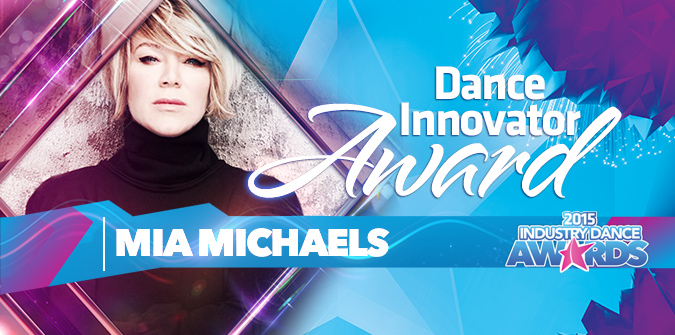 You've seen her work on Broadway, on your television screen, and maybe your favorite concert. Her Emmy Award-winning choreography has changed the face of staging and theatrical excellence. She is the brilliant Mia Michaels, and we are elated to present her with the 2015 Innovator Award.
Learn more about Mia Michaels–
From screen to stage, Mia has turned dance into inspired and unique works of passion and beauty. This year will mark a highly anticipated stage venture that will propel this multiple Emmy winner to even further heights as one of our most sought after innovators, not only in the world of dance, but in the entire entertainment industry.

Mia's brilliant choreography will be showcased for the highly anticipated Broadway Musical "Finding Neverland". Mia has joined forces with Oscar-winning producer Harvey Weinstein,Tony-winning Diane Paulus, and famous Broadway producerBarry Weissler. Mia choreographed a special preview of the song, "Neverland" for the 68th Tony Awards featuring Academy Award winner Jennifer Hudson. This magical Broadway musical is sure to be a huge worldwide success andis scheduled to open in early 2015.
Mia has turned dance into inspired and unique works of passion and beauty. Mia's brilliant choreography was showcased when she reunited with her SYTYCD judge alumnus, Adam Shankman, in the big screen adaptation of the hit Broadway musical, ROCK OF AGES. Her moves were showcased by the star-studded cast, which includes – Tom Cruise, Julianne Hough, Alec Baldwin, Russell Brand and Catherine Zeta-Jones. She followed that with a co-starring role in Summit Entertainment's STEP UP 4.
On television, Mia has served as the ever-popular judge and contributing choreographer for Fox's award winning TV show (and touring company) "So You Think You Can Dance" (SYTYCD). Not only has Mia won three Emmy awards for Outstanding Choreography for the television series SYTYD, but also her role in SYTYCD contributed to the show receiving the "Best Reality TV Show" award at the 2008 Reality TV Show Awards. Additionally, her brilliant choreography and huge fan-base in Canada has led her to share her talents for a reoccurring role as judge and guest choreographer with SYTYCD Canada for the entirety of the four year series. Mia also directed and choreographed a dream sequence with HughLaurie for the hit television show, HOUSE MD, entitled "Get Happy."
She directed and choreographed Blake McGrath's Relax video, which was nominated for Video of the Year at the 2011 MuchMusic Video Awards. Other work in film and television includes: "Cool Women" for AMC/DreamWorks Television, and award winning commercials for Mike's Hard Lemonade, Bacardi, Coldwell Banker, Ziploc, the WNBA, Star TV and VISA.
Mia choreographed the most notable Celine Dion show, A New Day, which played at Caesars' Palace in Las Vegas for over five years and received stunning reviews. The New York Times raved, "The greatest pleasure…was the go for-broke physicality of the choreography". The show featured a cast of 50 dancers with two hours of pure dance artistry. Other shows featuring Mia's choreography include Celine Dion's world Tour, Taking Chances and Cirque du Soleil's first touring show, Delirium, which premiered in March 2006. She has also created works for numerous recording artists including: Madonna, Ricky Martin, Gloria Estefan, Anna Vissi, and Prince.
Mia's dedication to the art of dance naturally carries a presence in the dance concert arena. Included in her diverse concert and stage work was the critically acclaimed New York based dance company, RAW, for which she was the founder, artistic director, and choreographer; the Paper Mill Playhouse's production of "Hello Dolly!" starring Tovah Feldshuh; Les Ballet Jazz de Montreal; Jazz Dance Chicago; and the Oslo Dance Ensemble. Recently, Mia was honored to receive the prestigious Tom Adams award for her dedication to TITAS and the arts. The La Fete du Ballet chairs, Ambassador Ron Kirk and Matrice Ellis-Kirk, presented the award.
Mia's expertise in the area of dance has made her a highly sought after guest instructor and choreographer worldwide. She has held faculty positions at prestigious institutions of dance around the world including Alvin Ailey, the JoffreyBallet, and International Dance Festivals all over the world. Mia continues to teach inspirational master classes worldwide. Every year Mia is on faculty for the Jump International Tour with Break the Floor Productions for 100,000 aspiring dancers – a dynamic and unique weekend dance event, featuring the top choreographers and instructors within the dance industry.
Her students and peers around the world have noted her as a memorable influence. She has a way of touching people's lives with passion, emotional expression and style of dance.