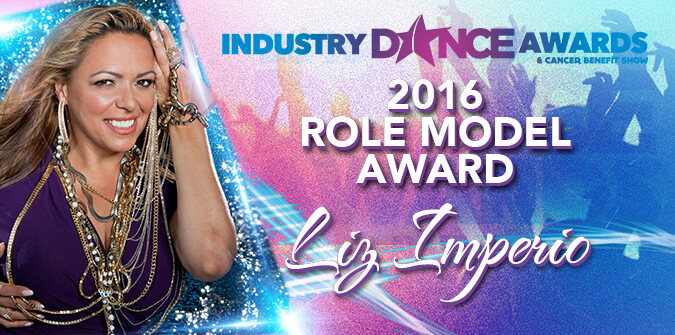 The Industry Dance Awards is proud to honor Liz Imperio with the Role Model Award for all of her outstanding and visionary work in the dance community. Not only is she one of the most talented choreographers in the world, Liz applies her passion for uplifting others with her motivational program, Breaking Barriers.
Thank you Liz Imperio for all that you have done for our community. We cannot wait to see your innovative choreography during the 2016 Industry Dance Awards opening performance!

Get to know more about Liz Imperio-
Liz Imperio has established herself as a major director and choreographer in the entertainment industry, including artistic direction and choreography for Jennifer Lopez's "Dance Again" world tour; two world concert tours for Madonna – "Re-invention" tour and "Confessions" tour; director/choreographer of Gloria Estefan's last 3 world concert tours;.
A proud Cuban-American, Liz was born and raised in Los Angeles, California. Her work caught the eye of famed choreographer Kenny Ortega at the tender age of 15. Liz Became Kenny's Associate Choreographer for 4 years before breaking out on her own.
Her credits make her one of the most sought after choreographer/show director in the business, including: The show stopping tribute performances by Jennifer Lopez on American Music Awards (Celia Cruz) and Latin Billboards Tribute to (SELENA), American Idol, Dancing With The Stars, Billboard Awards, Latin Grammys, NBC J-Lo Live in Puerto Rico, United We Stand with Michael Jackson (assoc. dir.), Lead Choreographer for Latin American Music Awards, VH1 Diva's Live, ABC's 50th Anniversary Celebration; Disney Channel original movie "Gotta Kick It Up"; James L. Brook's feature film "Spanglish"
Liz's commercial credits include L'Oreal (feat. J-Lo), Sheba Cat (feat. Eva Longoria), Jack In The Box, Bacardi, and many others. Liz was Supervising Choreographer for FOX's and Univision's first Bilingual television series airing in over 24 countries worldwide "Q'Viva". She also choreographed Simon Cowell's and Ricky Martin's reality TV hit show "La Banda". Her choreography contribution for the "Goodwill Games" also received an Emmy.
Liz Imperio has taught on numerous conventions over the span of 26 years, including LA Underground, Co. Dance, Tremaine Dance Convention, West Coast Dance Explosion, and is currently Artistic Director for Hollywood Vibe Dance Convention and newly founded Dance Ideas Seminar. Teaching has been a lifelong profession that has allowed her the opportunity to affect hundreds of thousands of lives. Liz's experience in the field of education has inspired her and partner Chad Carlberg, to create and release a motivational online program, BREAKING BARRIERS. This opportunity is a lifelong dream to give back and inspire today's community of dancers to reach new heights in their lives.