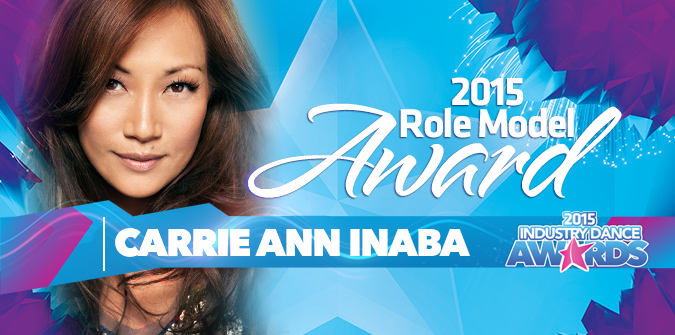 Carrie Ann Inaba will receive the 2015 Role Model Award. The Role Model Award is presented to an individual that represents passion, leadership, and philanthropy with motivation to inspire others. ABC's DWTS Judge, Carrie Ann Inaba, is the perfect example of just that.
Learn more about Carrie Ann Inaba–
Carrie Ann Inaba is a veteran choreographer who has worked on some of the most popular shows in TV history including American Idol and So You Think You Can Dance. She is most recognized as one of the three judges on ABC's Emmy Award winning highly rated prime-time reality TV series Dancing With the Stars. Inaba's extensive background in dance and choreography gives her the confidence to put forth her opinions. She prides herself on taking every aspect of the competition seriously in order to give her best professional advice, stating "It is a joy to see the passion, professionalism, and dedication of all the dancers, but it is my obligation to judge each performance with a critical eye."
As a child, Carrie Ann immersed herself in music and performance. She first found herself enchanted by the art of hula, a native Hawaiian dance, and later explored other dance forms. Unchained to any single discipline, Carrie Ann played the piano, the violin, sang in the choir and played volleyball.
"An active mind cannot exist in an inactive body." Carrie Ann found balance at an early age, unconsciously grooming herself into a public figure and powerhouse proudly representing the capabilities of women, of people of color, and of minorities of any realm.
Carrie Ann's initial success was found overseas as a musical artist in Japan. She honed her craft and submerged herself in Japanese culture. She explored her surroundings, making friends from all over the world, which later became a theme in her life as a documentarian and as a person.
One of her first jobs was as a dancer for the Emmy Award-winning television show, In Living Color (1990). Carrie Ann Inaba became one of the first Asian Americans to perform contemporary dance on national television. She became one of the "FLY GIRLS," a gorgeous collection of multi-ethnic dancers who jumped to the rhythmic pop, rap and hip-hop music at the beginning and during breaks between comedy skits. They were at the forefront of bringing Hip Hop to mainstream television.
In our society, the women who break down barriers are those who ignore limits. As a "FLY GIRL" in the early 1990s, Carrie Ann Inaba broke an unspoken racial barrier that had previously pigeonholed Asians and especially Asian Americans as a people incapable of connecting themselves to American Pop Culture.
Courage is about doing what you're afraid to do. There can be no courage unless one is scared. It can only be imagined what fear and courage possessed Carrie Ann to break another cultural barrier in taking one the most risqué roles thus far in her career. Carrie Ann Inaba submerged herself in Madonna's Girlie Show. She shaved her head, trained with circus folk and strippers and became immortalized as the famous "Pole Girl" who slid down a towering pole… topless. Though sexually provocative, Carrie Ann Inaba made a bold statement with her performance that changed the state of our minds. What Carrie Ann did in the Girlie Show was break down another cultural barrier, giving permission to Asian girls to demolish their personal social confinements to stay meek and nonthreatening.
Anthony J. D'Angelo was known to have said that it is important to develop a passion for learning. If you do, you will never cease to grow. Carrie Ann Inaba followed this wisdom and studied choreography at the University of California, Irvine. She continued her education by moving north and studying contemporary dance in Los Angeles, California. To this day she continues to stress the importance of education (especially in the arts), and gives back to her community through her role as the National Celebrity Spokesperson for the Andrea Rizzo Foundation, funding Dréa's Dream for the creation of a pediatric dance therapy program for children with cancer and special education needs. She also serves her immediate community and served as a guest teacher at Cal Arts in a series of 20 master classes to celebrate the 20th Anniversary of the CalArts Community Arts Partnership, which has provided free arts education to more than 200,000 at-risk and underprivileged youth throughout Los Angeles county.
Her talents as a dancer, choreographer, and host have brought her opportunities on the big screen, which have paralleled her success on the small screen. Carrie Ann costarred as 'Fook Yu,' the feisty other-half of 'Fook Mi,' of the sexy Japanese 'Fook Twins' in New Line Cinemas' "Austin Powers: Goldmember". Her first encounter with Mike Myers was in the company of Heather Graham, as 'Felicity Dancer,' in "Austin Powers II: The Spy Who Shagged Me". She has also been featured in other movies such as American Virgin and Monster Mash. As a dancer, Carrie Ann has been featured in: "Boys and Girls", "Flintstones II", "Showgirls", and "Lord of Illusions".
Carrie Ann has enchanted with her choreography such primetime shows as American Juniors, ABC's Dance Wars: Bruno vs Carrie Ann, the iconic Miss America pageant, Dance Fever, in which she also served as backstage host, the TV Land Awards and the Kids Choice Awards with enthralling choreography that has not only helped capture the essence and excitement of the shows but has created the quintessential beauty that the shows have represented in both character integrity and sensational entertainment. Carrie Ann's passion to move audiences and performers alike does not stop here; as the host of the Game Show Network's 1 VS. 100, Carrie Ann Inaba has served as host of TV Guide's Red Carpet Live, pioneered TV Guide's Fashion Wrap with Carrie Ann, served as guest host for Regis and Kelly and Live with Kelly, The View, and guest starred as Hannah Montana's choreographer, Tina. Carrie Ann's ambitious success extends even further to encompass her role as host and presenter of the American Music Awards' Red Carpet Exclusive.
Through her drive to explore art, to explore the world's opportunities, and her ability to stay determined in a difficult industry, Carrie Ann Inaba found success, all the while sticking to her dance roots by supporting dance not only as Co-Founder of Personna Dance Company, but in all that she does, always finding a way to help the community and the world open their minds to how incredible dancers are.
Carrie Ann's passions are not contained only within the worlds of dance and entertainment. In 2012, Carrie Ann Inaba launched The Carrie Ann Inaba Animal Project, a much needed organization to actively help those who have no way to help themselves. The CAI Animal Project collaborates with other rescue and animal organizations by funding and creating unique programs that help end the senseless killing of millions of innocent animals each year and encourages the human – animal bond that is so healing and enriching for us all.
Her drive to find every shelter animal a forever home led her to partner with the Petsami Network for Vin Di Bona Productions and FishBowl Worldwide Media to co-create and executive produce Crib Cats. Each webisode featured an adoptable shelter cat living a lush lifestyle, giving the show a humorous bent, as the cat shares their story about why they should be adopted and what they're looking for in a forever home.
Giving back is an integral part of Carrie Ann's life. By working with organizations that benefit animal welfare, Asian Americans and students of dance to name but a few, she has built a legacy of charitable associations that will benefit generations to come. In 2009, she appeared in a PETA campaign that taught the ABC's of animal birth control and is a celebrity ambassador for Best Friends Animal Shelter. In 2011, she agreed to become part of the Board of Directors of C.A.P.E, Coalition of Asian Pacifics in Entertainment.
What can be learned from Carrie Ann's life is that we are all extraordinary beings with immeasurable potential to grow, to learn and to break barriers. Our confinements are self made and are weak to our choice to explore it and our methods of breaking free.
And like her mom, Patty, a cancer survivor, Carrie Ann Inaba's warrior spirit continues to push her forward.